DOCX to JPG
Convert online and free DOCX to JPG
Uploaded filetype:
Choose filetype:
Advert:
A docx file can be converted to a jpg file if users want to send a text document to recipients (e.g. by email) who use an older Word version (before 2007) or who do not have the appropriate software for editing at all. In addition, JPG files are specially designed for use on the Internet or on websites, so the file format is ideal if you want to publish text documents on a website (and editing is no longer required or desired). Another advantage is the increased portability, since mobile devices such as tablets can also handle JPG files and they often lack the ability to open Word documents. Finally, the space used can also be an argument, as the JPG format efficiently compresses files. Converting DOCX files to JPG files can quickly become a challenge for inexperienced users, as Microsoft Word often does not offer a function for this. In addition, users who have no Word at all can find themselves in a dead end. We offer you a simpler and fully automated solution: You can convert DOCX to JPG online with file-converter-online.com. Simply upload your DOCX file and we will do the conversion automatically. Depending on the file size, the process does not take longer than half a minute. You do not have to have any prior technical knowledge and there are no costs.
Guide: Convert DOCX to JPG online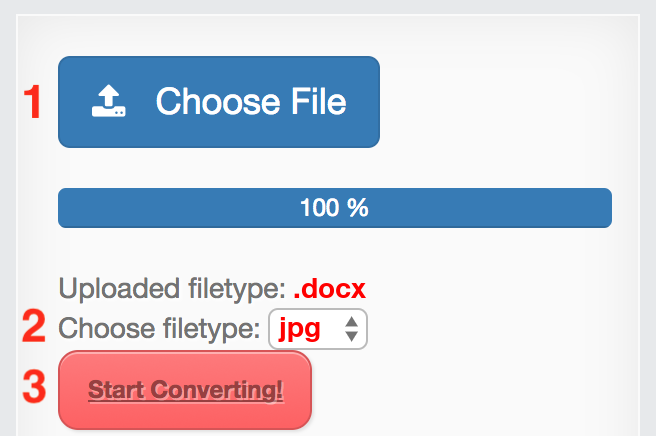 Choose input DOCX file
Check target filetype and change if required (JPG)
Hit the "Start Converting!" Button
That's it! Your download will start automatically on the following page
Currently we support the following conversions with DOCX files:
All Converters
Information about the extensions for the conversion from DOCX to JPG
From: DOCX
The docx file extension is used by Microsoft Word Documents that have been saved in the Open XML Format, which Microsoft has developed for their Office suite. DOCX is the default way Microsoft Word saves documents for version 2007 and up of the text …
File extension:
.docx
More information and converters for DOCX
To: JPG
The jpg, or JPEG, file format is used for images. It is often used for digital photos, and for images displayed on the internet. It is a common format that can be opened by most computers, tablets, mobile phones, and other devices. Saving an image …
File extension:
.jpg
More information and converters for JPG
Video-Tutorial: DOCX to JPG
File-Converter-Online.com is a service for converting files online from one type to another. We take care of your privacy and take care of your files. As a part of this, there's no registration required on file-converter-online.com. As we're offering our service in a browser, it does'nt matter whether you use Windows, Apple OS X or Linux. Your conversion results will always be at the same, very high quality and of course, without watermarks.